THE AIM
Filmaur Multimedia, founded by Michel Montecrossa on behalf of Mira Alfassa - The Mother who is the spiritual partner of Sri Aurobindo, produces a great variety of Art-Movies, Michel Montecrossa Music-Movies and Movies on Sri Aurobindo and The Mother as well as documentaries and feature movies on DVD, CD-Plus, CD-ROM.
Filmaur Multimedia furthermore is organizing in collaboration with the Omnidiet Resort and Business Hotel and Mira Sound Germany the International Free Cinema Film Festival in Mirapuri, Italy, the Spirit of Woodstock Festival in Mirapuri and the Michel Montecrossa and Bob Dylan Fest in Mirapuri.
SERVICES
Filmaur Multimedia is providing full-scale Production Services ranging from Film Development (all formats and all proceses) Video and Film Editing, MPEG-Encoding, Soundrecording, CD-Plus, CD-ROM and DVD Production as well as Mastering plus Mass-Production and all related Layout and Printing Services for international customers.
BOOKS AND MOVIES
For books and soundrecordings of Sri Aurobindo, The Mother and Michel Montecrossa go to
Mirapuri-Verlag (for books) and Mira Sound Germany (for soundrecordings)
For more information contact:
FILMAUR MULTIMEDIA
Mrs. Usha Voss
Danziger Strasse 1
D-82131 Gauting
Phone: ++49-89-8508555 Fax: ++49-89-8509178
eMail: Filmaur@Mirapuri-Enterprises.com
If you want to know more about the biography of Sri Aurobindo and Mira Alfassa - The Mother, read in English: 'Mirapuri - City of Peace and Futureman in Europe, Italy Vol. 1' and Vol. 2 'Mirapuri and the Sunrevolution' (also available in Italian) or in German: 'Mirapuri - Stadt des Friedens und des Zukuftsmenschen in Europa, Band 1: Grundlagen im Werk von Sri Aurobindo und Der Mutter in der Zeit von 1872-1950'.
All books are available from Mirapuri-Verlag.
Order from Mirapuri-Verlag on DVD the documentary movie: 'Mirapuri - City of Peace and Future Man in Europe, Italy and Miravillage - the first satellite of Mirapuri in Germany'. The futuristic Adventure of Consciousness and Joy based on the Integral Yoga of Sri Aurobindo and Mira Alfassa - The Mother.
The most important work of Sri Aurobindo is his book 'Savitri' in which he describes the complete vision, way and realization of the Integral Yoga. It is available in the original english edition as well as translations into various languages from Mirapuri-Verlag.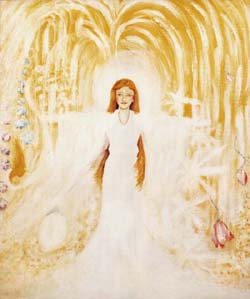 Savitri Image from the 'Meditation on Savitri' DVD-Series
MEDITATIONS ON SAVITRI DVD-MOVIE-SERIES IN 12 PARTS -
THE MAJOR INTRODUCTION INTO THE INTEGRAL YOGA OF SRI AUROBINDO AND MIRA ALFASSA - THE MOTHER:
SAVITRI IS SRI AUROBINDO'S MAJOR WORK AND MOST IMPORTANT INTRODUCTION TO HIS INTEGRAL YOGA AND REALIZATION. THE 'MEDITATIONS ON SAVITRI' DVD-MOVIE-SERIES VISUALIZES SAVITRI IN 12 PARTS THROUGH IMAGES, PAINTED BY HUTA HINDOCHA, ON THE BASIS OF ORIGINAL DRAWINGS AND DETAILED INSTRUCTIONS BY THE MOTHER. THE MEDITATION ON SAVTRI MOVIES PRESENT ALL IMAGES TOGETHER WITH RECITATIONS FROM SAVITRI SPOKEN BY THE MOTHER AND ACCOMPANIED BY HER OWN ORGAN MUSIC. THE MEDITATION ON SAVITRI SERIES WAS PRODUCED AND DIRECTED BY MICHEL MONTECROSSA ON BEHALF AND WITH THE SPECIAL BLESSINGS OF THE MOTHER.
WANT TO KNOW MORE? CLICK HERE.

See here the 'Meditations on Savitri' introduction movie.
All original books of Sri Aurobindo and The Mother, the 'Meditations on Savitri' DVD-series, as well as other DVD-movies and soundrecordings of Sri Aurobindo and The Mother on Audio-CD and CD-Plus, can be ordered from:
Mirapuri-Verlag
Phone: ++49-89-8508751, eMail: Mirapuri-Verlag@Mirapuri-Enterprises.com