Michel Montecrossa's Concert for Peace and Love
Double Audio-CD & Double DVD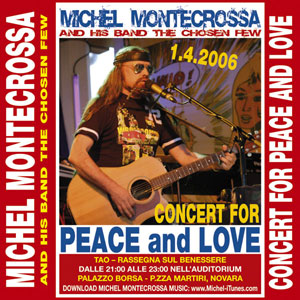 Michel Montecrossa's great 'Concert for Peace and Love', released by Mira Sound Germany as Double Audio-CD, presents 25 peace, love and happiness songs including the title song 'Peace and Love Song (Love Is The Answer)' and the touching 'Lovesong'. The Mirakali and Diana songs include 'Mi Amor Michel' by Mirakali and 'Victory of Love' by Diana Antara.
Michel Montecrossa together with his band The Chosen Few brings great 21st century dancedrive and poetic songs of peace and love to the stage.
Michel Montecrossa concerts are great celebrations of happy power, drive and emotion for an audience enjoying the magic of rhythm, love and a stunning variety of musical styles.
Michel Montecrossa comes with the heart of a freedomloving man easily bridging the vast reaches from high-energy cyberrock to acoustic-poetic ballads.
Michel Montecrossa is 21st century's golden voice: encouraging, full of life with great songs and sounds that sing of peace, love and happiness in concerts you won't forget.