'Cyberborn'
Michel Montecrossa sings Michel Montecrossa, Bob Dylan, Hank Williams,
Robbie Robertson, Holly Sherwood, Cher, Françoise Hardy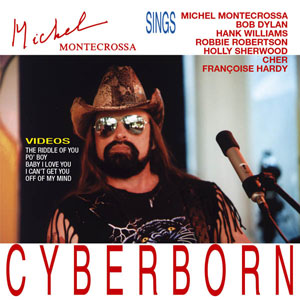 'Cyberborn', the new Michel Montecrossa CD-Plus released by Mira Sound Germany presents the new Cyberdisco Hit Sound of Michel Montecrossa.
Michel Montecrossa sings 8 original songs including the Ecstasy Hits 'Baby I Love You', 'The Riddle Of You' and 'Born'.
Michel Montecrossa also sings 7 songs of other artists among them 'Po Boy' from Bob Dylan's CD 'Love And Theft' and an unreleased version of Bob Dylan's 'Need A Woman'.
'Cyberborn' in addition to the 15 songstracks presents 4 Avantgarde Michel Montecrossa Videos: the Luis Bunuel style video for Bob Dylan's 'Po Boy', the Andy Warhol style video for Hank Williams' 'I Can't Get You Off Of My Mind' (which Bob Dylan also covers on the 'Timeless' Hank Williams Tribute) and the Cyberdisco Laser Hit video for Michel Montecrossa's 'Baby I Love You' and 'The Riddle Of You'.
'Cyberborn' is an Interactive Multimedia CD-Plus with 15 songtracks and 4 MPEG videos and Internetlinks.
The 'Cyberborn' Songs:
Michel Montecrossa: 'The Riddle Of You', 'Baby I Love You', 'Get A Taste Of Her', 'Cybershag', 'Cyberpower', 'Wet Fantasy', 'Wet Sensation', 'Born'
Bob Dylan: 'Po Boy', 'Need A Woman'
Hank Williams: 'I Can't Get You Off Of My Mind'
Robbie Robertson: 'Take Your Partner By The Hand'
Cher: 'All Or Nothing'
Holly Sherwood: 'Tonight Is What It Means To Be Young' (from the movie: 'Streets Of Fire')
Françoise Hardy: 'Mer' (Sea)
Michel Montecrossa about 'Cyberborn': "'Cyberborn' is highcontrast action-singing with lyrics like a take-off. 'Cyberborn' is cybernetic new love - old love fusion. The digits of your brain switched on for full tilt here and now consciousness-expansion. New love - old love: these songs are about love. My songs sing of the new love, the love living free in the splendor of the new consciousness, the consciousness of Futureman, the consciousness of tomorrow. Love not burdened with dead past, free mind love with every cell of your body joy electrified.
I also sing a bouquet of songs originally performed by Bob Dylan, Hank Williams, Robbie Robertson, Cher, Holly Sherwood and Françoise Hardy telling the story of old love, the way of yesterday: sweet - sad, happy - tormented, struggling to step out of the encasement into the light.
All the songs, new and old alike, move into multidimensional directions and are united in the same center of joy: eternal love."