Michel Montecrossa and his band The Chosen Few
'Cyberdimension'
Audio-CD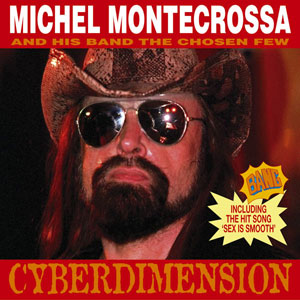 'Cyberdimension', released by Mira Sound Germany, presents 16 drivin' dancepower and romantic hit-songs by cyberrocker Michel Montecrossa and his band The Chosen Few.
'Cyberdimension' is Michel Montecrossa music energy with its inimitable greatness of power, warmth and erotic flair.
'Cyberdimension' features 16 magnificent hit-songs including the electrifying 'Dancedrive: I Like It', the cool-poetic 'Hitchin' My Way East' and the sizzling 'Sex Is Smooth'.
'Cyberdimension' is a masterpiece of 21st century cyberrock art by Michel Montecrossa.