Michel Montecrossa's sings Bob Dylan
'Eternal Circle'
CD-Plus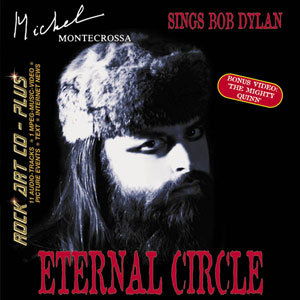 'Eternal Circle' Michel Montecrossa's CD-Plus salutation to rock 'n' roll outlaw balladeer Bob Dylan.
Michel Montecrossa, New Style Rocker concerned in his own songs with free mind issues, released his first Bob Dylan cover songs CD-Plus 'Eternal Circle' through the Mira Sound Germany label.
'Eternal Circle', receives good international media response:
"The covers are simply good." (Radio 102 Norway)
"Blowin' In The Wind, sounds great – lovely, sweet with lot of emotions – we will go on playing your music." (Florida Searchers)
"Eternal Circle is an interesting version – Michel's own music is good and is full with engaging ideas." (Helsinki Moona)
"Eternal Circle sounds cool and easy – sounds different – we look forward to upcoming productions." (Sachsen PSR)
"Interesting cover version – thanks god no hiphop coverproductions." (Belgien SFA)
"Eternal Circle is a new impression of Michel Montecrossa." (Prag Hitsong)
"Mystery Road and Eternal Circle are both artistic productions – our people like to hear more." (Ohio Funradio)
The Mira Sound Germany Rock Art CD-Plus production 'Eternal Circle', Michel Montecrossa sings Bob Dylan, includes 11 Soundtracks most of them rarely covered by other artists (Eternal Circle, Knockin' On Heaven's Door, Sitting On A Barbed Wire Fence, Blowin' In The Wind, Mixed Up Confusion, Tomorrow Is A Long Time, Love Minus Zero / No Limit, On The Road Again, All Along The Watchtower, Bob Dylan's Dream, Couple More Years) and the Bonus Video 'Quinn The Eskimo'. In addition the Rock Art CD-Plus includes picture-events and internet news.