Future Love New Year Concert
Double Audio-CD and Double DVD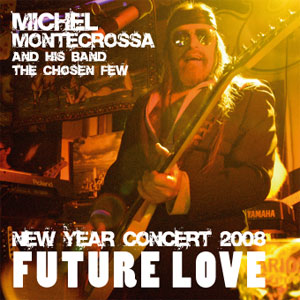 Michel Montecrossa's joyful and happy dance-drive New Year Concert 'Future Love' released by Mira Sound Germany on double Audio-CD and double DVD presents live 28 Michel Montecrossa super songs together with Mirakali, Diana Antara and his band The Chosen Few.
Michel Montecrossa's New Year Concert 'Future Love' includes the world new year song 'Future Love Dance', the vikingsong 'Glory Of The Inner Ring', the dance-drive thriller 'Workout With You', the cybermetal 'Vomit Of Your Soul' and slam-poetry songs like 'The Woman That Loves The Breakthrough', 'The Woman That Don't Light A Cigarette' and 'Her Eyes Black As Night'.
Mirakali and Diana Antara contribute great cybersongs like 'Heroes Are Great', 'On Fire' and 'Poets And Heroes'.