'High Water'
Michel Montecrossa sings Bob Dylan & Himself
CD-Plus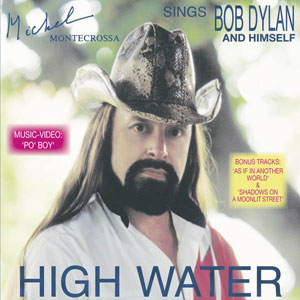 'High Water' is Michel Montecrossa's powerful eleventh 'sings Bob Dylan' CD-Plus after 'Eternal Circle', 'Born In Time', 'Jet Pilot', '4th Time Around' and the 6 CD-Plus Set 'Michel Montecrossa's Bob Dylan Fest 2001'.
'High Water' is Michel Montecrossa's outstanding performance of 12 original Bob Dylan songs and 2 breathtaking Michel Montecrossa songs.
'High Water' features Michel Montecrossa's masterful interpretation of songs from all periods of Bob Dylan's career from the early 'Girl From The North Country' to the unreleased versions of 'From A Buick 6' (which at the time was called 'Lunatic Princess Revisited') and 'Need A Woman' to the most recent title song 'High Water' and 'Sugar Baby'. As one interviewer remarked "Nobody sings Dylan like Michel".
'High Water' presents Michel Montecrossa profound and sovereign way of singing Bob Dylan songs as well as Michel Montecrossa's intense Free Cinema Art in the Luis Bunuel style movie for Bob Dylan's song 'Po' Boy'.
'High Water' features as Bonus Tracks two original Michel Montecrossa songs: 'As If In Another World' and 'Shadows On A Moonlit Street' leading straight into the futuristic Cyberworld of Michel Montecrossa and the genius of his music and poetry.
'High Water' includes, in addition to the 14 songtracks and the superb MPEG Music-Video, exciting interactive Internetdata providing access to Michel Montecrossa's stunning world of unbound creativity.