Michel Montecrossa 'It's Me' Acoustic & Electric Concert
Double Audio-CD & Double DVD Release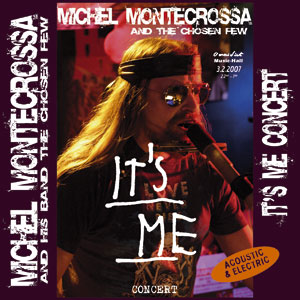 The extraordinary 'It's Me' acoustic & electric concert released by Mira Sound Germany on double Audio-CD & double DVD presents 12 acoustic and 17 electric master songs by Michel Montecrossa together with Mirakali and Diana Antara. 'It's Me' is the stunning self-portrait of Michel Montecrossa's topic-poetic song art.
"My concerts", says Michel Montecrossa, "are up-to-date creations in tune with the universal rhythm and the stream of life and events as they unfold out of it. It is a journey of consciousness always bringing you in contact with the ever present now, its truth and its meaning. From there all my songs come. Thus my concerts are youth forever renewed and my songs give you the opportunity to experience the universe inside you and outside you as it is new created at the very moment. The songs are constantly streaming in from the original unlimited field of consciousness. This is their secret. If you join the flow of concerts you will be in tune with the depth and heigth of the ultimate reality unveiling itself in the relative. You then are future in the making and no longer past disintegrating."
Michel Montecrossa's title song 'It's Me', the profound 'Man At The Window – Woman In The Field' and 'Naked Poem' are three genius songs from the acoustic set leading to his high level of great electric cyber rock songs like 'The Mystery Of Motherfuckin'' and 'We Play The Shit We Like – We Play The Shit We Love'. His band girls Mirakali and Diana Antara contribute super songs like the japanese 'Aishite Iru Yo – I Love You' by Mirakali and 'Stardream Of Wonderlove' by Diana Antara. Join the Journey.