Laughing Cyberrock & Climate Change Concert
Double Audio-CD and Double DVD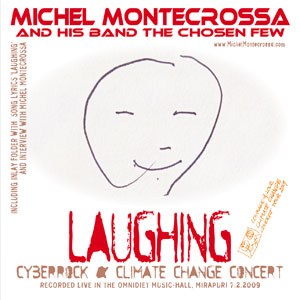 The 'Laughing' Cyberrock & Climate Change Concert, released by Mira Sound Germany as double Audio-CD and DVD is Michel Montecrossa's second concert of the Courage & Love Climate Change Concert Tour 2009 presenting 27 songs, including the twelve string acoustic title song 'Laughing', the climate change thrillers 'Ways Of Change', 'Climate Change Will Never Ever Stop!', 'Laughin' And Lovin' – Anyway You Like' as well as the cybermetal 'Adults Are Idiots'.
Mirakali and Diana Antara contribute climate change songs like 'Sunshine' and 'Paradiselight'.
About 'Laughing' Michel Montecrossa says: "Do you hear it laughing in the political kindergarten? Do you hear it laughing in the war of words? What I really want is love till the end. Laughing is what I understand. The next turn is coming and I am waiting at the bend."