Life For All Cyberrock & Climate Change Concert
Double Audio-CD and Double DVD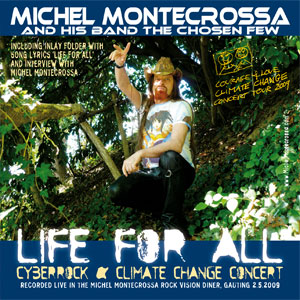 The 'Life For All' Cyberrock & Climate Change Concert, released by Mira Sound Germany as double Audio-CD and DVD is Michel Montecrossa's ninth message concert of the Courage & Love Climate Change Concert Tour 2009 presenting 32 songs, including the title song 'Life For All' and great rock songs like 'Young Dream', 'Fearless', 'Stunning', 'Loud And Proud, Sweet And Tender' and the electric version of 'Life' as well as romantic songs like 'Futuregirl' and 'Eternal Love'.
Diana Antara contributes message songs like 'Survive' and 'Sweet Lover'.
About 'Life For All' Michel Montecrossa says: "Life for all is the answer to every kind of war."