Love Revolution & Space Age Drive Cyberrock & Climate Change Concert
Double Audio-CD and Double DVD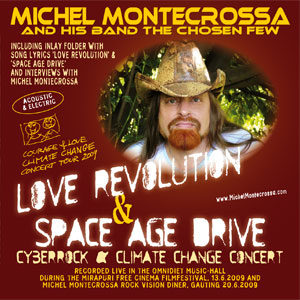 The 'Love Revolution & Space Age Drive' Cyberrock & Climate Change Concert, released by Mira Sound Germany as double Audio-CD and DVD are Michel Montecrossa's eleventh and twelfth message concerts of the Courage & Love Climate Change Concert Tour 2009 presenting 33 songs, including the title song 'Love Revolution' and great rock songs like 'Suck It Out', 'Exploring The Universe', 'Logo-Girl' and the profound electro-acoustic version of 'We Are The Others'.
Mirakali and Diana Antara contribute message songs like 'Dreams In The Sky' and 'Fire In Our Hearts'.
About 'Love Revolution' and 'Space Age Drive' Michel Montecrossa says: "Love revolution is the only revolution worth the trouble."
"Space-age drive is bound to come if we want to survive. The answers are in the wideness, not in smallness."