Love Unites Cyberrock & Climate Change Concert
Double Audio-CD and Double DVD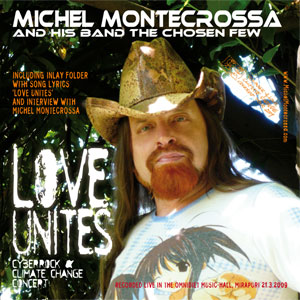 The 'Love Unites' Cyberrock & Climate Change Concert, released by Mira Sound Germany as double Audio-CD and DVD is Michel Montecrossa's sixth concert of the Courage & Love Climate Change Concert Tour 2009 presenting 33 songs, including the celtic style title song 'Love Unites', the electro acoustic version of 'Future Love Dance' and the wild rock 'n' rollers 'Keep On Lovin'' and 'Hot And Wet'.
Mirakali and Diana Antara contribute new style love songs like 'Fight For You Love' and 'Happy Life Of Love'.
About 'Love Unites' Michel Montecrossa says: "Love unites, not war and hate."