Michel Montecrossa sings Bob Dylan and Himself
'The Marlon Brando Style Concert'
Double Audio-CD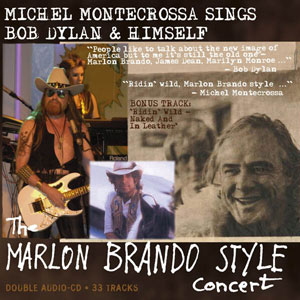 Michel Montecrossa sings Bob Dylan and Himself: 'The Marlon Brando Style Concert', released by Mira Sound Germany, presents on two Audio-CDs 17 great Bob Dylan songs including 'Band Of The Hand' and 16 new Michel Montecrossa songs including 'Teeny Baby! I Want More'.
"I heard that Marlon Brando had left his body and I decided to dedicate my next concert to him. Marlon Brando means a lot to me and probably to Bob Dylan too." – Michel Montecrossa
"People like to talk about the new image of America but to me it`s still the old one - Marlon Brando, James Dean, Marilyn Monroe ..." – Bob Dylan
"The bonus track 'Ridin' Wild – Naked And In Leather' is the song I have written with Marlon Brando in a special way in my mind. But his spirit is there in many ways in all the songs: Ridin' Wild Marlon Brando Style."
"My songs as always sing of the latest news from the future, bring you in touch with the hot spot of the sizzling now as does 'Teenagetrip'."
"The Bob Dylan songs I sing include rarities like 'Switchboard Operator' for which I have written the music and the moviesongs 'Band Of The Hand' and 'The Usual' among many others." – Michel Montecrossa