Michel Montecrossa's Michel & Bob Dylan Fest 2006
6 CD-Box with 6 Audio-CDs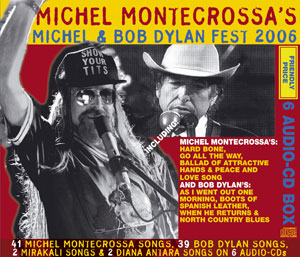 The 'Michel & Bob Dylan Fest 2006' released by Mira Sound Germany as 6 CD-Box or DVD-Box features 41 Michel Montecrossa songs, 39 Bob Dylan songs, 2 Mirakali songs and 2 Diana Antara songs, including Michel Montecrossa's 'Hard Bone', 'Go All The Way', 'Ballad Of Attractive Hands', 'Peace And Love Song' and Bob Dylan's 'As I Went Out One Morning', 'Boots Of Spanish Leather', 'When He Returns', 'North Country Blues' and many more.
Michel Montecrossa with his high class musical drive and golden voice is bringing great message and joy with songs by Bob Dylan and Himself, givin' everyone an experience to remember and to love.
The 'Michel & Bob Dylan Fest 2006' is a great celebration of happy power, drive and emotion for an audience enjoying the magic of rhythm, poetry, love and a stunningly wide variety of musical styles.
Michel Montecrossa comes with the heart of an independent man easily bridging the vast reaches from high-energy cyberrock to acoustic-poetic ballads.
Michel Montecrossa is the outstanding 21st century voice for today and tomorrow: encouraging, full of life with great songs by himself and Bob Dylan making the 'Michel & Bob Dylan Fest 2006' into an event you won't forget.