'Michel Montecrossa sings Evergreens'
Double Audio-CD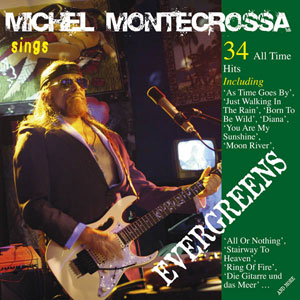 'Michel Montecrossa sings Evergreens' released by Mira Sound Germany on 2 Audio-CDs presents Michel Montecrossa's incomparable and rejuvenatingly unique new creation of 34 evergreens and all time hits including 'As Time Goes By', 'Sheila', 'You Are My Sunshine', 'Die Gitarre Und Das Meer' and many more unforgettable tunes.
Michel Montecrossa sings great songs originally performed by Dooley Wilson, Johnny Ray, Tommy Roe, Bob Luman, Howlin' Wolf: Chester A. Burnett, Elvis Presley, Johnny Cash, Lonnie Donegan, Stan Jones, Bing Crosby, Big Bill Broonzy, Steppenwolf, Paul Anka, Françoise Hardy, Jimmie Rodgers, Holly Sherwood, Robbie Robertson, Jimmie Davis, Janis Ian, Freddy Quinn, The Platters, Johnny Mercer, Cher, Led Zeppelin, Hank Williams, Lara Fabian, Woody Guthrie, Pattie Paige, Dean Martin.
Including legendary movie songs from 'Casablanca', 'Streets Of Fire', 'Star Trek', 'Breakfast At Tiffany's', 'Divine Secrets Of The Ya-Ya Sisterhood', 'Final Fantasy', 'Natural Born Killers'.