Mother Earth Cyberrock & Climate Change Concert
Double Audio-CD and Double DVD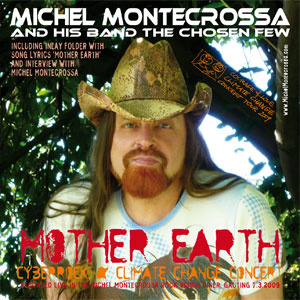 The 'Mother Earth' Cyberrock & Climate Change Concert, released by Mira Sound Germany as double Audio-CD and DVD is Michel Montecrossa's fifth concert of the Courage & Love Climate Change Concert Tour 2009 presenting 37 songs, including the acoustic 'Earth Story Song', the title song 'Mother Earth' and a great electro-acoustic version of the 'Earth Mystery Song'.
Mirakali and Diana Antara contribute mother earth songs like 'The Heart That Beats Like Yours' and 'Earthdance'.
About 'Mother Earth' Michel Montecrossa says: "Mother earth is all we have – don't fool around with her."