Michel Montecrossa 'Music Of The Stars'
Meditation 6 CD-Box for Peace and Regeneration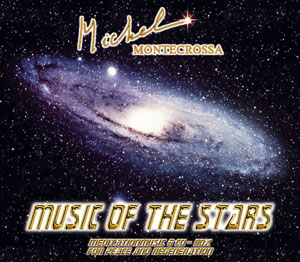 'Music of the Stars' is Michel Montecrossa's 6 CD-Box with meditative music for peace and regeneration. It is healing and uplifting music for all ages.
'Music of the Stars' is a collection of six profound productions, each having its own special atmosphere, expressing the common theme of peace and regeneration: 'Music of the Stars', 'The Dream', 'Blue Horizon', 'Symphony of the Heart', 'Hymns of Creation' and 'The Days of Mirapuri'.
'Music of the Stars' presents Michel Montecrossa's exceptional art of healing and life-enhancing meditationmusic. Its peace giving regeneration-energy is beneficial for relaxation at home as well as strengthening support for medical treatment.