Michel Montecrossa's New Year Music 2003
'Blessed Are Those Who Take A Leap Towards The Future'
CD-Plus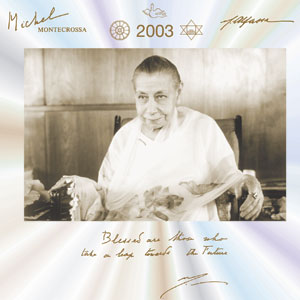 Michel Montecrossa's New Year Music 2003 released as CD-Plus by Mira Sound Germany is an uplifting Cybersymphony with 10 Movements, the New Year Message spoken by Mira Alfassa and one MPEG-Video.
Michel Montecrossa's New Year Music 2003 was for the first time presented on 1.1.2003 at the Miravinci Auditorium in Mirapuri, Italy, the City of Peace and Futureman based on the work and vision of Sri Aurobindo and Mira Alfassa - The Mother.
Michel Montecrossa's New Year Music 2003 is a symphonic meditation on the theme of the Consciousness Leap into the Future Realization. It is this leap that makes possible the coming of Futureman about which Michel Montecrossa sings in the Finale of the New Year Music 2003:
I'M HEADIN' TOWARDS YOUR SUNSTREAM-OCEAN, / YOUR SPLENDOR IS TOUCHIN' ME BY SURPRISE, / ALL MY BODY IS TAKEN UP INTO YOUR MIGHT. / WHAT ONCE WAS PAST IS NOW TRANSFIGURED, / WHAT ONCE WAS SLOW CELLULAR MATTER / IS NOW TRANSLUCENT FLAME OF SOUL'S NEW POWER, / ENERGY STABLE LIKE A COLUMN OF LIGHT, / SUBSTANCE CONSCIOUS OF THE COSMIC BRIDE. / ENDED IS THE GAME OF LIFE WITH DOOM. / ALL IS POURING IN FROM THE FUTURE VAST, / REVERSING THE ORDER OF THINGS INTO LOVE.
THE WORLDTREE REVEALED IS THE EXPANSION OF BRAIN / INTO COSMOS' MULTIDIMENSION-REAL, / A SUNMIGHT LUMINOUS WITH INFINITE WORLDS, / THE SUPERCOSMIC BEING RELEASED LIKE A SEA / INTO UNBOUND TRAVELIN' THROUGH ETERNITY. / IT IS THE COMIN' OF FUTURE MAN FOR REAL, / BORN FROM THE FUTURE, THROUGH FUTURE SET FREE, / A FLOWER OF PURE ALL-ENERGY / PLACED FROM ABOVE INTO THIS WELL OF LIGHT. / BILLIONS OF SUNS NOW SEEM TO BE BLIND / IN THE PRESENCE OF THIS SEEING CHILD.