Michel Montecrossa's 'Oktoberfest Dance Party'
Audio-CD with 17 Power Dance Hits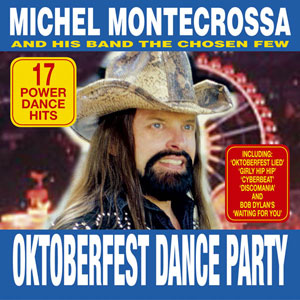 'Oktoberfest Dance Party' released by Mira Sound Germany presents Michel Montecrossa with a magnificent fire-work of seventeen power dance hits for everyone.
'Oktoberfest Dance Party' includes Michel Montecrossa's happy sing-along songs like 'Oktoberfest Lied', 'Wild West Honey' and 'Met You In Paradise' as well as drivin' ecstasy songs like 'Lovemakin' Supertrip', 'Cyberhandy Baby', 'Cyberbeat' and 'Discomania', dance-floor hits like 'Our Dream', 'Reality Rocker & Cyberreal', 'Girly Hip Hip', 'Cyberthingies' and 'Deep Space Baby', romantic tunes like 'Peace Is Good For Love', 'Sunmessage', and 'Balliamo Tutta La Notte' or 'Lovemakin' Waltz' and Bob Dylan's 'Waiting For You'.
'Oktoberfest Dance Party' is Michel Montecrossa's great cyberbeat love parade for all who like to enjoy, to sing and dance.