'Rainbow Song'
Michel Montecrossa's bouquet of songs on
peace, love and new consciousness awareness
Audio-CD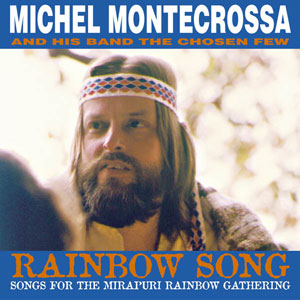 'Rainbow Song' - Michel Montecrossa's bouquet of songs on peace, love and new consciousness awareness is released by Mira Sound Germany as Audio-CD with 17 exceptionally beautiful, dynamic and expressive songtracks including hits like 'Rainbow Song', 'Europe Song', 'War Is Hell', and 'Friedens Rock'.
'Rainbow Song', in the words of Michel Montecrossa, "Is a song-image of the rainbow. The rainbow for our soul is the symbol of peace and union with all the good things that bring us love, happiness and strength to overcome conflicts and to be able to live in harmony with the world. 'Rainbow Song' is a production which I dedicate through the 'Europe Song' in a special way to the spirit of joy, unity and cooperation in the E.U.
'Rainbow Song' looks forward to a future of hope and true progress for the whole world. It is optimistic and realistic music, with an uplifting and encouraging message.
'Rainbow Song' furthermore is given as an inspiration for all who come to the Mirapuri Rainbow Gathering which takes place every year in August in Mirapuri, the City of Peace and Futureman in Europe, Italy."
'Rainbow Song' presents 17 touching songs. Fourteen of them are in english language and three in german language.