Michel Montecrossa's 'Soft Skin'
Maxi Single CD-Plus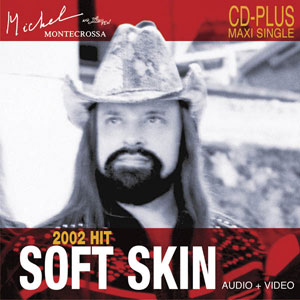 Michel Montecrossa's 2002 Hit 'Soft Skin', released as CD-Plus Maxi Single by Mira Sound Germany, includes the ''Soft Skin' soundtrack, the 'Soft Skin' live-video and Internetdata.
'Soft Skin' is Michel Montecrossa's DJ- and Radio Hit 2002 for rave parties, casinos, discos, colleges and music-halls all over the world.
'Soft Skin' presents Michel Montecrossa's super cyberstyle-dance-drive making everyone want to join the party and makin' everybody feel really good and groovy.
'Soft Skin' was recorded during Michel Montecrossa's legendary New Year Concert 2002 with all the magic flair of his futuristic Cybermusic.
'Soft Skin' CD-Plus Maxi Single released by Mira Sound Germany with the original 'Soft Skin' soundtrack from the Michel Montecrossa New Year Concert 2002, the 'Soft Skin' MPEG Music-Video and Internetdata.