'Something's Crushin' In'
Audio-CD & DVD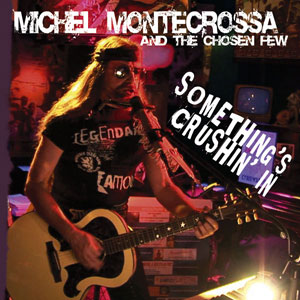 'Something's Crushin' In', recorded live in Mirapuri and released by Mira Sound Germany as double Audio-CD & DVD is a landmark album in Michel Montecrossa's outstanding career presenting him as one of the greatest poet-balladeers of cyberage.
Michel Montecrossa together with his golden voice, acoustic guitar and harmonica gives life to a stunning cosmos of songs with hard hitting lyrics and great tunes including the title song 'Something's Crushin' In' and reality songs like 'Truth Of The Moment', 'Criminal Blues', 'All The Words', 'Yes Or No Blues', 'Spinnin' Round Blues' and 'Exactly Like You'.
Michel Montecrossa's genius-way of creating and performing intelligent and emotionally sensitive songmusic reaches with 'Something's Crushin' In' the height of intensity that can make a lone balladeer the voice of the world and can make the world listen.
'Something's Crushin' In' features twelve Michel Montecrossa master songs touching the criminal heart of our time of fear, anguish, war, pain and suffering as well as the soul of our time with its love and bright hopes that have never been so strongly and poignantly visible as in our contradictory and brutal world of today.