Michel Montecrossa and his band The Chosen Few
at the Spirit of Woodstock Festival 2000 in Mirapuri, Italy
6 CD-Box with 102 songs and 3 music-videos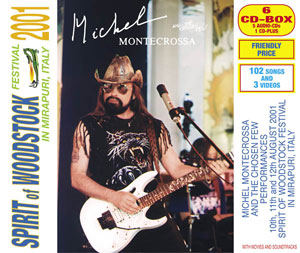 Michel Montecrossa at the Spirit of Woodstock Festival 2001 is the fantastic documentation of 102 songs Michel Montecrossa and his band performed during three festival days and nights in August 2001 in Mirapuri, Italy.
The 6 CD-Box features pure Michel Montecrossa Cyberrock: dynamic, futuristic and powerful dancefloor-revolution.
In addition to the stunning performance of Michel Montecrossa's Cyberhit originals like: 'Cybershe', 'Cybermoon', 'Cyberwarrior', 'God Is A Girl', 'Cyberchant', 'Sexy Tongue', 'Cosmic Action', 'Uncensored', 'Double Action', 'Met You In Paradise', 'Cyberhoney Skateboard Ride', 'Cyberlick Girl'. Michel Montecrossa presents first class interpretations of covers like the Led Zepplin classic 'Stairway To Heaven', the Cher hit 'All Or Nothing' the Elvis evergreens 'How The Web Was Woven' and 'C. C. Rider', the unreleased version of Bob Dylan's 'Need A Woman', the Steppenwolf bikerrock 'Born To Be Wild', the 80's hit 'Tonight Is What It Means To Be Young' and Johnny Cash and Hank Williams country classics.
Michel's bandmembers Mirakali, Diana Antara and David Butterfield too play great original songs like 'Young Soul', 'Melons For Breakfast', 'Free Dance' and 'Thoughts In Summertime'.