The Dance Of Life Concert
Double Audio-CD and Double DVD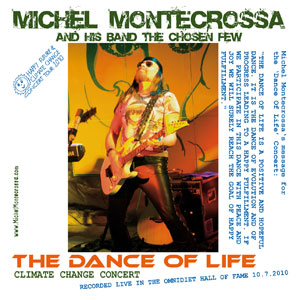 The 'Dance Of Life' Climate Change Concert, released by Mira Sound Germany as double Audio-CD and DVD is Michel Montecrossa's seventh cyberrock and dance-electronica concert of the Happy Future and Climate Change Concert Tour 2010.
Performed in the Omnidiet Hall Of Fame during the Mirapuri World Peace Festival the concert presents 34 cyberrock and dance songs including the title song 'The Dance Of Life', the joyest cyberrock 'Boy & Girl', the folky 'Levels Of Reality', the punky 'Magic Universe', the groovy 'Cyberpower Baby', the erotic-dance electronica 'Cybermoon #2' and the electro-acoustic ballad 'You Are My Girl – You Are The One'.
Mirakali and Diana Antara contribute great songs like 'Your World' and 'Sunpower'.
Michel Montecrossa about the 'Dance Of Life' Climate Change Concert: "The dance of life is a positive and hopeful dance. It is the dance of evolution and of progress leading to a happy fulfillment. If we participate in this dance with peace and joy we will surely reach the goal of happy fulfillment."