'The Power Of Meditation'
six orchestral Musicmeditations by Michel Montecrossa
6 CD-Box with 6 Audio-CDs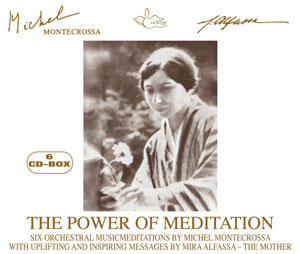 'The Power Of Meditation' released by Mira Sound Germany presents six orchestral musicmeditations by Michel Montecrossa with uplifting and inspiring messages by Mira Alfassa – The Mother.
The six musicmeditations are composed by Michel Montecrossa as New Year Musicmeditations from the year 2000 till 2005. Each musicmeditation begins with a message by Mira Alfassa – The Mother.
Listen here to the profound expressiveness of the 'All Nations Overture', Mira Alfassa's Organ Theme with her New Year Message and the Opening 'Love For You' from the All Nations Symphony on disc six.
The 6 CDs in addition to the soundtracks include contemplative movies illustrating themes from the various musicmeditations.
Each musicmeditation begins with a message by Mira Alfassa – The Mother.
The Messages:
Disc One: 'Remain Young – Never Stop Striving Towards Perfection'
Disc Two: 'No Words – Acts'
Disc Three: 'The World Is Preparing For A Big Change. Will You Help?'
Disc Four: 'Blessed Are Those Who Take A Leap Towards The Future'
Disc Five: 'To celebrate the birth of a transitory body can satisfy some faithful feelings. To celebrate the manifestation of the eternal consciousness can be done at every moment of the universal history. But to celebrate the advent of a new world, the supramental world, is a marvelous and exceptional privilege.'
Disc Six: 'My only aim in life is to give a concrete form to Sri Aurobindo's great teaching and in his teaching he reveals that all the nations are essentially one and meant to express the divine unity upon earth through an organized and harmonious diversity.'
Michel Montecrossa Cyberartist, Cybermusician and Futurist founded Mirapuri – The City of Peace and Future Man in Europe, Italy and its first satellite Miravillage in Germany, on behalf of and with the good wishes of Mira Alfassa – The Mother who is the spiritual partner of the poet and mystic Sri Aurobindo. They both created the Integral Yoga, meaning: comprehensive (Latin: Integral) consciousness development (Sanskrit: Yoga).