'Unforeseen You Concert'
Double Audio-CD & DVD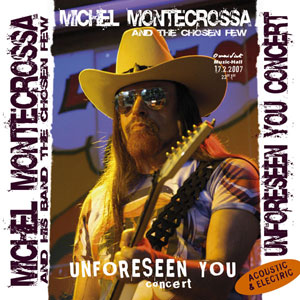 The thrilling 'Unforessen You' acoustic & electric concert released by Mira Sound Germany on double Audio-CD & double DVD presents 11 acoustic and 17 electric super songs by Michel Montecrossa together with Mirakali and Diana Antara. 'Unforeseen You' includes in the acoustic set the title song 'Unforeseen You', the soul stirring 'The Place Of The Free' and the chilling 'Warm Body Blues' and in the electric set thrillers like 'Electropunk's Upgraded Levels Of Confusion', 'You're A Disaster', 'The Girl That's Laughin'' and the warm 'Want To Come With Me'.
"Cyberage", says Michel Montecrossa, "offers an ocean of electricity, charged with highly virulent information symphonies to which I react at every nanosecond. Thus my songs and music appear in synchronicity with the universal movement as it dances on the consciousness horizon. Follow my songs and you can hear and read the cosmic story as it unfolds."
On 'Unforeseen You' Michel Montecrossa's band girls Mirakali and Diana Antara contribute cybersongs like 'Stand Up And Fight' and 'Fiery, Wild Night'.