Michel Montecrossa's Christmas Concert 'We Are The Best'
CD-Plus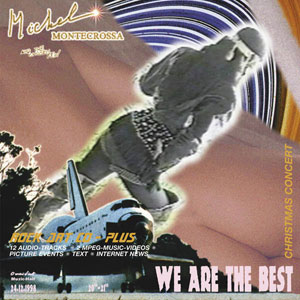 'We Are The Best': Michel Montecrossa's Christmas Concert CD-Plus including 12 Soundtracks, 2 Music-Videos, Picture-Events, Text and Internet Data.
'We Are The Best' presents Michel Montecrossa's poetic, kindhearted and contemplative aspect of his New Style Music through the touching songs: 'We Are The Best', 'The Beat Of Your Heart', 'Golden Answer', 'Without A Song The Road Ain't No Way', 'A Dream In Her Gaze', 'Rock Of Solid Gold', 'Slow And Easy', 'Eternal Love', 'Open Window'.
They tell of Love and Understanding, Insight and Wisdom, Peace and Strength: they are melodious, simple and profound.
Michel Montecrossa plays piano and sings together with Mirakali and Diana Antara who contribute their songs: 'Love So Sweet', 'See The Light Shining In Your Eyes' and 'It Feels Like In Heaven'.